In our regular "Temple Nights" at the 'Haus der Achtsamkeit' in Winterthur you can experience, explore & experiment your sexuality within different exercises and spaces in connection and/ or yourself.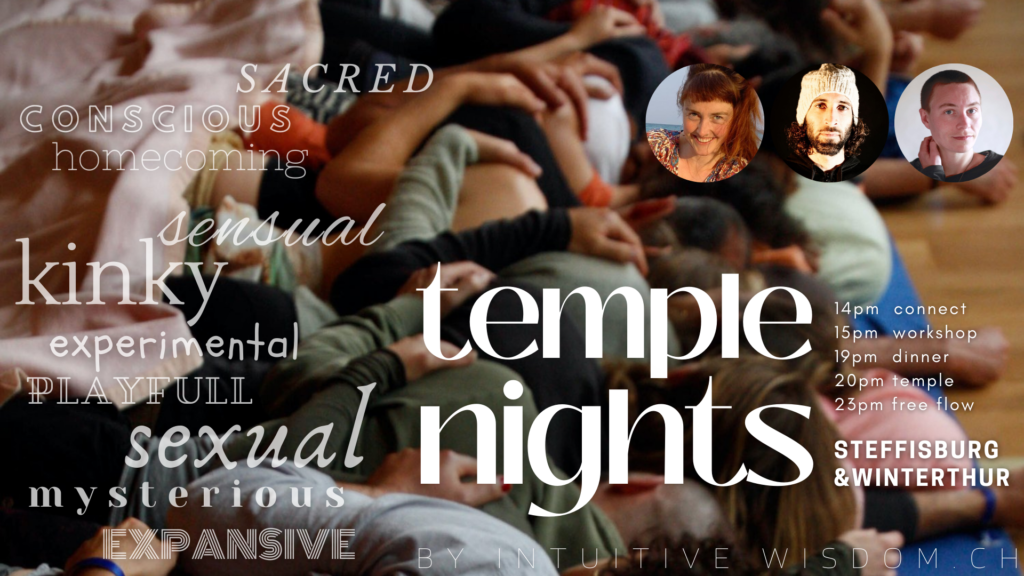 How do YOU take care for YOUR
sensual and erotic needs and desires?
We want to create together with you an oasis where we can expand and stand for what we really want. Instead of all of us trying to hide our real pleasures in our private space we believe that it liberates all of us to show those human needs to each other. So we can free ourselves from shame and loneliness and explore free interactions.
This will be a place of JOY, WELL-BEING, PLAY, where you can be the way you want to be. A place to explore new ways of interacting between human beings.
This space is going to be in authenticity to oneself and to others. That's why it's called a temple. So we invite you to be completely honest and communicate directly, from the bottom of your heart. What do you desire? What do you long for? What are your boundaries? How exactly do you like it?
We want our common journey to be beautifully balanced between trying out new things and a rise of awareness in terms of what supports connection between you and yourself or you and a other beings.
14pm Silent arrival . We welcome you with smudge and other surprises. You have time to make yourself ready for your sex appeal. Nice music to support you feeling yourself in the space. A whole hour is dedicated to your arrival. We just speak the most necessary things and enjoy the presence.
15pm Workshop . We lead you into our common journey by offering you exercises to connect and get to know each other, as well as to find trust in the whole group. Together we establish a culture of consensual interaction. And a basis to bravely stand up for our wishes, to consciously leave our comfort zone and to express what feels perhaps a little shaky in us. Learning how to respectfully interact with each others vulnerability.
19pm Dinner . With everyones contribution to the sensual and/ or aphrodisiac buffet a variety bodily nourishments will be provided. We heartily invite you to share the dinner in a feeding way. Be creative 😉
20pm Temple . Now we enter into the temple, a room of following your own pleasures and potentials. You are invited to try out with a pure and unjudged curiosity, like a baby has. By openhearted connections with the other participants you explore and nourish your essence. We provide different islands for example cuddle, sensual, eros sexual, kinky play, retreat, dance, bud-plug & dildo experiences, exploration around food … The islands are an invitation to try yourself out in new fields and new ways, and provide a common ground to more easily go into new connections.
23pm Free Flow . The facilitated temple ends now. Which means you don't need to go home immediately. In the free flow you can continue with where there is still curiosity and energy. Find closure in your own time. The space is available until 1am in the morning.
For some nights it is possible to sleep over in the 'Haus der Achtsamkeit'. If you have this wish, please mention it in the registration and we will inform you, if its gonna take place.
Something sensual or aphrodisiac for the putluck
Dresses you feel really sexy in
… save the dates for after the summer break
Winterthur
Sa 16. Sept 2023
Sa 14. Oct 2023
Sa 18. Nov 2023
Sa 16. Dec 2023
Sa 13. Jan 2024
Sa 10. Feb 2024
Sa 9. March 2024
Sa 6. April 2024
Sa 4. May 2024
Sa 1. June 2024
Thun
Sa 30. Sept 2023
Sa 11. Nov 2023
or come to our Temple Weekend to deepen your Temple experience or Advanced Temple if you feel safe and ready to expand.
For the temples we have a limit of 30 participants.
We have assistants, which will guide and support you in emotional processes. They can either speak English or German.
We have 4 parking slots form the venue and in the street next to it there are a lot of white parking slots available.
We are looking forward to explore and enjoy together Ruben, Michèle, Franca and Team
Visit also our Facebook Event here.